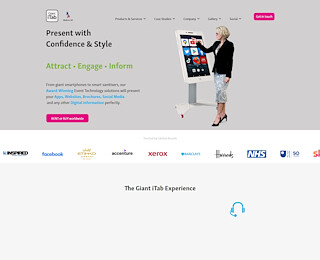 Are you thinking about incorporating a Big iPad to your next trade show? Giant iTab knows you're going to love the results, which is one reason they have become the go-to supplier of Giant Tablets and Smartphones. If you're looking for a new way to attract traffic to your booth, this is it- trade show attendees absolutely love the Big iPad!
Hotels are also making use of 'kiosk sized' giant smartphones for their lobbies. These scaled down versions of the 42" Giant Smartphone are still very large at 27" and make it possible for guests to interact and access marketing information in areas where space or budget may limit the ability of a company to hire another employee. For the one time cost of purchasing a Big iPad, your investment will continue paying for itself year after year.
Giant Smartphones make terrific information points for presenting event information, for hotel digital concierge service, travel information, or even as a directional for schools, colleges and office locations where assistance is required to help guests find a specific location. Take advantage of additional features available for the Big iPad:
Built-in camera for use in Photo Booths, Snapchat and Instagram applications

Smartphone Surround for additional security

Rotation capable to present content in portrait or landscape
Contact Giant iTab to learn more about options to purchase a custom 'Flight Case' for a higher level of portability for customers who travel to events. You can also purchase a 3-year extended warranty and support. Ask a representative about the really Big iPad, at 55 inches tall, it's the ideal interactive product for airports, hotels, corporations and other businesses looking to streamline their customers' experience.
Whatever the application you're considering a big iPad for, Giant iTab has what you're looking for, in sizes that range from the 27 inch Kiosk tablet to the 55 inch Showcase model. A Giant Tablet or Smartphone can help you better connect with your guests and visitors in a way that is truly 'today'.
Ask millennials how they would prefer to interact with your company and they'll tell you, hands down, through their mobile device. Why not give them more of what they already want, with a big iPad on location that functions in exactly the same way that their own mobile device works. Business owners love Giant iTab's products because there's no learning curve to using them- and they operate in iOS and Android, providing their customers with an extremely effective method of engaging with their brand.
Find our more about the benefits of buying or renting a big iPad for your upcoming event, trade show, expo or for your business location as a point of interaction with potential customers. Visit GiantiTab.com and check out the touchscreen solutions available in big, giant and supersize options. We know you're going to like what you see- and your clients and customers will too. You can speak with a company rep by calling Giant iTab at +44 (0) 20 3542 1645.
Giant iTab
+44 20 3542 1645
Chester House, 81Fulham High St, Fulham SW6 3JA, United Kingdom