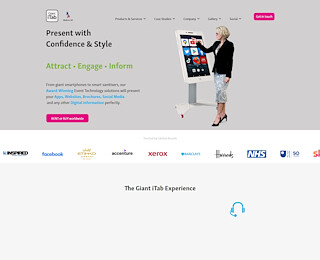 Can a big iPhone really help you attract more traffic to your trade show? Ask any company what's most important at the annual trade show and they'll tell you- it's all about engaging with attendees. Engaging, however, is becoming something that is more and more difficult to do as the years go by. Company executives spend incredible amounts of money every year in an effort to interact or engage with passers-by while set up at trade shows and expos, unfortunately, with no real means of knowing what the ROI is for their investment.
Bigger banners means bigger investments year after year. Print companies happily tell their clients they need the latest tabletop 'towel' with the company brand on them, more dynamic stand up posters, tabletop infographics, directional set up throughout the show, and so on. While these products do a lot to make profits for print companies, the fact is bigger isn't always better- unless it pertains to your iPhone.
Giant iTab presents the 'Big iPhone', available for purchase or rent for your next trade show and guaranteed to draw a crowd. If you're looking for a powerful way to drive traffic to your booth, this is it. The Big iPhone uses both iOS and Android operating systems, so all of your clients can enjoy a seamless experience when using the product- there's no learning curve to worry about; the Big iPhone functions in the very same way that your clients' mobile devices work.
Giant iTab's products are available in a variety of size options to meet your unique requirements, from the 23" Podium size and 27" Kiosk option to the 42" Viewpoint stand up product and even the incredible 55" Showcase tablet. Consider the options for each size:
23" Podium Big iPhone
The absolute perfect size for your trade show booth tabletop, this product will draw traffic right into your booth with no hesitation. Watch in silent awe as this Big iPhone does what even your brightest sales person cannot.
27" Kiosk Big iPhone
This unique 'smaller' version of the 42" Smartphone is the perfect oversize for a hotel lobby or office location where space or resources are limited. Allow this amazing product to serve as a sales employee or receptionist and designate it at your counter, desktop or on a podium to provide easy-to-access information for guest or visitors.
42" Big iPhone
A terrific option for rental companies, App developers and businesses using mobile or digital. Potential clients will have no reservations about stepping up and interacting with the Giant iPhone, in fact, you'll draw a crowd every other booth owner will be envious of.
55" Showcase Big iPhone
Totally interactive and life size, this sensational product is designed for 100% interactivity in an airport, hotel lobby, corporation reception room and other applications where customer interaction is encouraged.
Find your perfectly sized Big iPhone from Giant iTab today by calling one of their sales reps at +44 (0) 20 3542 1645. Give your clients more of what they already want- a complete mobile experience in a fixed location.
Giant iTab
+44 20 3542 1645
Chester House, 81Fulham High St, Fulham SW6 3JA, United Kingdom