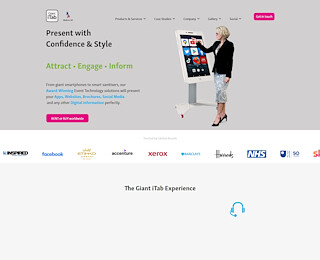 In the age of digital trade show displays, there is one display that stands out from the pack. There is one that takes the personal experience of smartphone use and blows it up on a giant scale to make it a highly interactive group experience. We're talking about digital trade show displays that pique visitor curiosity and force engagement and interaction. Of course, we're talking about the industry-leading Giant iTab.
What's the Benefit of Using Giant iTab for Trade Show Displays?
Giant iTab digital trade show displays have been shown through more than 40 comprehensive independent case studies to increase visitor engagement, lead generation, and sales conversions at trade shows and events. By showcasing your digital content on the world's largest smartphone (our smallest model is 27" and our largest model is 55"), you will spark an interest in even the most passive visitors.
Your Giant iTab will cause trade show visitors to want to stop, look, and touch your display. Use the technology to draw people to your exhibit, then simply start a conversation about it and demonstrate the iTab using your content, utilizing the opportunity to convert a visitor to a new customer. You'll probably be the only one at your trade show with a Giant iTab, so you alone will most likely enjoy the benefits.
Giant iTab is a Digital Trade Show Display that's a Branding Powerhouse
Giant iTab is second to none regarding branding power and message delivery. Other digital trade show displays have their own advantages as well. Laptops, tablets, and even smart TVs can be very useful tools for promoting trade show visitor engagement and driving home a brand. Giant iTab takes all the advantages of these technologies to another level and dominates at trade shows.
Our Customers Love Giant iTab's Ease of Use
In addition to its superior branding power, Giant iTab is as simple as plug and play. To make the user experience as stressless as possible, we'll deliver, set up, and install your Giant iTab onsite so you don't have to. Training comes at no cost for iTab purchasers, and training typically only takes a few minutes. We provide ongoing support to owners of iTab, so we can help you any time you have a problem or question in the years to come.
Will My Visitors Know how to Interact with Giant iTab?
Your visitors will find Giant iTab's intuitive interface straight-forward and easy to use. If a person has ever had a smartphone, they will instinctively know just how to use Giant iTab because this device is a huge smartphone. They can swipe, pinch, flick, touch, and do all the things they would do with the smartphone in their pocket.
Choose Your Giant iTab Digital Trade Show Display
Depending on the size of the Giant iTab you purchase, you may choose from the following displays:
Giant SmartPhones
Tablets
TouchTablea
Unfortunately, the 27" model does not yet come in TouchTable display.
If you're interested in seeing a demo of our Giant iTab digital trade show displays, just send us an email or give us a call during normal business hours. We'd be glad to show you how Giant iTab can work for your trade show exhibit.
Giant iTab
+44 20 3542 1645