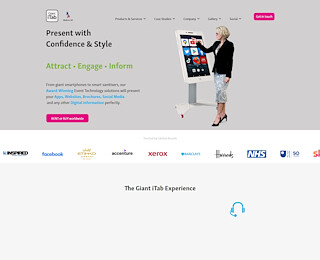 If you've been thinking about buying a Giant Smartphone for your next trade show or event, consider making a call to Giant iTab. More and more corporations are taking advantage of the newest digital technology to attract traffic to their booth, and it's paying off in a big way. Trade Show attendees love interacting with the Giant Smartphone that functions in exactly the same way as their existing mobile device.
Not all giant smartphones are created equal- which means if you're considering the purchase of one of these amazing units, you should research the product and make certain it's a genuine Giant iTab. A one of the easiest to navigate models on the market, the Giant Smartphone from Giant iTab requires no learning curve on the part of the user, so you'll draw a crowd that's there to stay from the start of your event to the finish.
Before you make the final decision on which product to purchase, consider the operating system being used, the brand of the product, connectivity options that are available, as well as specs and features.
Interactive kiosk smartphones can provide your business with a wealth of benefits, including all of the following:
Improve Sales
It all comes down to the bottom line. A Giant Smartphone can provide a boost to sales through its ability to empower your customers or clients. Everyone loves using the Giant Smartphone, ensuring the people who are visiting your location are spending more time interacting with your brand.
Giant Smartphones as Employees
Consider the cost of a Giant Smartphone as the best investment you've ever made; in fact, compare it with the cost of hiring a full time salesperson and you'll quickly see how it can become a valued asset to your company. Your Giant Smartphone can free up your receptionist or sales person by providing instant, reliable information to your potential customers in a very enjoyable way.
Improve Your Customer Experience
Let's face it- doing business today means catering to the 'millennial' customer. You don't have to be a student of business to know millennials would much prefer interacting with a company via their mobile device rather than engaging one-on-one with a sales person or representative from a company. The Giant Smartphone caters to millennials and tech-savvy customers in a way that no real person can and serves to streamline the buying process at point locations.
Contact Giant iTab to learn more about their Giant Tablets, Smartphones and other products. Giant iTab has recently been selected at the official touchscreen supplier by Mash Media. All of the oversized products are available for purchase or rent to maximize on the traffic of your next event. Feel free to fill out the online contact form to connect with a representative from Giant iTab who will be happy to discuss the particular challenges you face when setting up at a show. Call a rep today at +44 (0) 845 5760 789 or spend a few moments on the website to see why your show needs a Giant Smartphone.
Giant iTab
+44 20 3542 1645