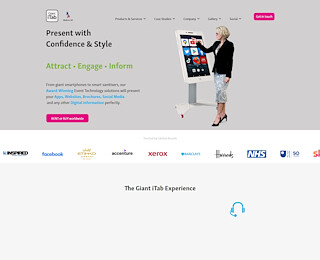 Are you looking for a new way to attract attention to your trade show booth? A Giant Tablet is one sure way to keep a steady flow of traffic coming engaged and interested in what's happening in and around your booth. Giant tablets and iPhones are making a hit anywhere they appear- and they're not just for show!
Giant iTab can make a giant tablet available for your upcoming event that is fully functioning in every way, just on a larger scale. Trade Show and Expo visitors love using the giant tablet- and it runs both iOS and Android systems, making it the perfect prop for any agency selling mobile or digital data. Take a closer look at the specs:
42 inches tall

LED panel

Pro Cap touch technology

12&2 # of touches

6 millisecond response time

1920 x 1080 resolution, full HD

1000:1 contrast ratio

335 brightness

Anti-glare

Edge to edge glass

VGA & Dvi

HDMI

USB Touch Interface

Speakers

Apple Mac Mini i7

Operates on the latest version of iOS

Metal enclosure
Take advantage of the innovative new world of product showcasing that allows full customer engagement. The Giant Tablet takes your prospective client's existing content and reproduces it exactly on the oversized touchscreen without compromising the iconic design, gesture control and additional user advantages of their one hand held device. Use the Giant Tablet for the following applications at your next event:
Customer or staff training

Branding

As an interactive guide

For app presentation

As a collaborative tool

For product presentation

Launching new products

Social Media Centre

And much more
GiantiTab.com can transform your next show with a Giant Tablet designed to stand up or a Podium model that's perfect for a tabletop setting. Trade Show booths that lack the space to display a full size 42 inch display model can take advantage of the 23 inch Podium display that includes all of the features of the Giant Tablet.
Provide mobile gaming for your potential clients in a big way and run a mobile app through the large format touchscreen for the entertainment of your clients. Best of all, there's no learning curve to using the Giant Tablet, since it is navigated in exactly the same manner as the client's own mobile device. Rent the world's biggest phone for your event and turn heads in a way you've never experienced at an event. Content options for the Giant Tablet include:
SmartPad and Salesforce apps

Product configurator

Product Selector Guide

Websites

Video showreels

Powerpoint slides

PDFs

Photo galleries

Gaming

Social Media, including Facebook and Twitter
Learn more about Giant iTab by visiting the website- check out the videos to see first-hand how a Giant Tablet can transform your event or click on 'Touchscreen Solutions' to see options available in sizes. Feel free to call a pro from Giant iTab at +44 (0) 20 3542 1645 if you have any questions or fill out the convenient online form to get in touch with the sales team from Giant iTab.
Giant iTab
+44 20 3542 1645
Chester House, 81Fulham High St, Fulham SW6 3JA, United Kingdom