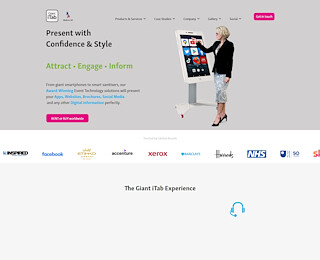 Using The New Huge IPad For Your Interactive Marketing Displays
The bar of digital marketing has just been raised to a new height. Several years ago, companies made use of physical billboards to advertise their products and services. The physical billboards only displayed pictures and texts. Later, technology advanced forward with the emergence of digital display units. Videos became the most effective marketing tool. Animation videos, explainer videos and even testimonial videos are being displayed in strategic locations.
Now, advertisement has made a giant stride with the emergence of the new huge iPad that does not only display all kinds marketing videos, it also allows viewers to interact with it. So the huge iPad has the touch screen facility to respond to customers' touch and answer their questions too.
The technology of huge iPad is fast being adopted by many advertising agents and companies because of its numerous benefits. Some of these benefits have been outlined below.
Advantages of interactive displays
It is a digital salesperson
Usually, when customers watch a video and they have any question about the video, they will look for any salesperson around to answer their question. With this interactive technology, there is no need for a salesperson as the new display unit answers all the questions needed to be answered.
To make your interactive display unit answer as many questions as possible, you need to include all the FAQs and their answers in the application that runs the unit.
Product Presentation
This technology offers better and clearer product presentation without human intervention. Viewers just need to watch the video from the beginning to the end before they ask all the questions they want to ask.
Customer training
This display can also be used to train customers on how best to use certain products. In other words, it can be used for several explainer videos of several products. It is not only customers that should be trained about certain products. The display is also used for staff training.
New product launch
Launching of a new product is best done through the digital display. These units are placed in malls and other strategic locations that witness regular massive foot traffic.
These units can only pull customers to watch what are being displayed. It is the content of their display that matters more. A lot of managers often think that once their products are being displayed in different locations, their sales will explode. Unfortunately, it does not work like that.
The content of your display is much more important than the display unit. You need to bear in mind that watching a marketing video does not mean the viewer will order the product that is being marketed if he does not think he needs it.
The problem is that most adverts concentrate on selling products and they don't sell solutions. Your video should focus on the need and importance of your product. For instance, how can an umbrella be advertised in a video without any rain in the video? Isn't it better if the video shows a terrible rain and someone goes into the rain with a sample of the advertised umbrella? Of course the latter is more compelling than the former.
Giant iTab
+44 20 3542 1645
Chester House, 81Fulham High St, Fulham SW6 3JA, United Kingdom