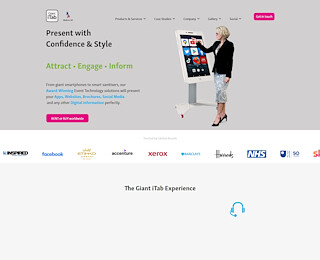 Perhaps you're interested in a virtual trade show display, such as an iPad display stand. You likely already know the benefits your exhibit will receive with a digital display stand. You'll pique more interest from trade show guests, promote exhibit engagement, and likely generate many more leads than you would by using traditional trade show display stands.
Digital is the Key for Trade Show Branding
In today's age, people respond well to technology in general. Many trade show vendors find that even if a person wouldn't typically be interested in their exhibit, by utilizing modern technology, such as an iPad display stand, vendors will have many more trade show guests stopping, looking, and chatting at their booth. It is these meaningful one-on-one associations that allow vendors to impact the trade show guest and potentially earn new customers.
Countless independent case studies have been conducted to see what effect, if any, these kinds of iPad display stands can have on trade show exhibits. The result? The results are astounding! These studies prove unanimously that having an interactive display drives more traffic to trade show exhibits and typically results in a massive increase in lead generation!
Data suggests that trade show vendors who utilize modern technology in their displays experience a 100% increase in the number of quality leads they generate per trade show on average. These studies also found that trade show guests remember the brands displayed on iPad-type display stands more than exhibits that use traditional branding (signs, banners, etc.) immediately after the trade show and as much as one month later.
What if You Could Replicate this On a Massive Scale?
What if there was a 55"-screen, giant smartphone display stand, that looked and functioned just like an Android smartphone and could be used as a display stand in trade shows? You could pinch it, swipe it, touch, flick it, and pull it, just like a smartphone! You can browse the Web, download apps, play games, and do everything else you could do with a smartphone because in essence, this device was merely a giant smartphone.
What if there was a giant smartphone that functions as a massive iPad display stand for your trade show, allowing guests to interact with your brand like never before? Well, there is. Say hello to Giant ITab!
Introducing Giant iTab for Trade Show Display Stands
If you are not sure that Giant iTab is an investment you want to make, we invite you to view its 40-something case studies and see our customer reviews on social media. We'll even let you try it before you buy it. Simply send us your content, and we'll make a live demo video for you at no cost.
Along with Giant iTab comes giant support. We want all purchasers of Giant iTab to take comfort, knowing that we have their backs after purchase. All Giant iTabs come with warranties, software licenses, and a remote support plan. The warranty lasts for three years and the support lasts the lifetime of the product.
Giant iTab
+44 20 3542 1645