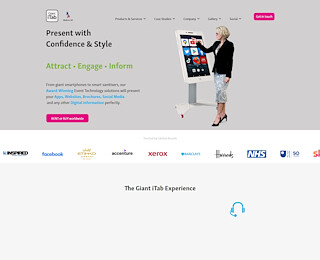 iPad Stand Trade Show
When it comes to the latest tablet and smartphone experience, Giant iTab has the leading integrity to provide the newest phone technology but with the simplest user integration. We are the living proof of digital success that caters worldwide product service.
Our company aims to attract, inform, as well as to engage high-quality phone performance internationally without compromising the customer-centered essential functions of the product that accurately meet public and market demand.
What We Offer
We have a wide array of product options from tablets to smartphones and are very responsive customer support staff ensures to deliver an immediate response to all concerns and queries related to our product service. Aside from that, we also provide additional services for our clients who share their full trust in our company.
Our service support includes iTab warranty which is determined based on the type of gadget you purchase from us, software license which serves as legal support for every product that we cater as well as to ensure you get the best quality of the product, and the support plan for remote clients.
To specify, the product warranty that you can get is the 1-year period return service for any damaged or defective items that you get after purchase. With this, you can also take advantage of the telephone technical support from our customer service who can assist you step by step and all throughout the warranty procedure. In terms of replacement of items, you can have an on-site replacement or the delivery type which takes around 3 days to transport depending upon the client's location.
iTab license includes regular updates of the software system and other android function tools that can be upgraded upon request. This license is also responsible for keeping track of your software code that enables you to determine what type of upgrade you need for your device.
The support plan, on the other hand, is used to enable our technicians to solve your product issues in terms of content or application through an online device resolution. They can navigate your devices without using phone call support system. With this plan, you can also extend your device warranty for up to the 3-year period.
iPad Stand Trade Show
Our latest event includes a market-based display of the largest human-sized iPad that enables participants to experience real-time iTab navigation and use features on actual dry runs. With this event, you can witness and go through every product that we cater from smartphone to iPad technology. This is a pioneering and notable iPad stand trade show and tech fair that will let you experience the real giant tab that has ever created with 100x extra bigger than the regular gadget.
Contact Us Today
We have online forms found at Giant iTab official website at www.giantitab.com if you want to know more about our products and events. You may also reach us via phone or email at +44 (0) 20 3542 1645 or info@giantitab.com for immediate response. We also welcome walk-in clients for inquiries and assistance. Our main office is located at Chester House, 81Fulham High St, Fulham SW6 3JA, United Kingdom.
Giant iTab
+44 20 3542 1645