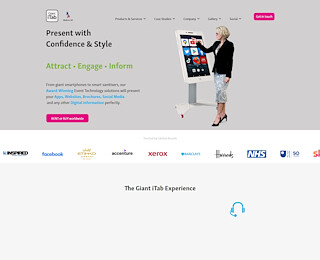 Giant iTab commonly used as a giant iPad trade show display that helps vendors to generate giant leads at trade shows. Giant iTab is the world's largest smartphone and is powered by Android. The smallest of our three models is 27" and is a powerful display that is sure to attract visitors to your booth, regardless of the products/services you offer.
How Does Giant iTab Function?
Giant iTab is called "The Largest Smart Phone in the World" because it looks and functions just like a smartphone. Indeed, it is a smartphone - just a giant one! You can create contacts in your Giant iTab, load your content, play games, access all social media platforms, record video, Skype, or even make phone calls! With WiFi connectivity, there's nothing you can't do!
You can pinch the screen to zoom in on the display, swipe, zoom out, and flick just like you would on your Android. The highly intuitive user interface promotes visitor engagement automatically and requires no training for use as anyone who knows how to use a smartphone will be able to use Giant iTab.
What Can Giant iTab Do for Your Trade Show Display?
Giant iTab was designed to give users a premium iPad trade show display experience. iTab is fast, intuitive, and interactive, and it's a great way to create brand awareness and generate leads without having to go over the top or be obnoxious to get attention. Giant iTab is a conversation-starter by nature. Getting trade show visitors to engage is the first step in lead generation.
Giant iTab is a trade show display that stands out! Even trade show guests who might not ordinarily stop at your booth will be attracted to the Giant iTab display because it looks and functions just like a 27+" cell phone. People will want to see it, touch it, use it, and ask questions, providing vendors with a rare chance to make an impression on visitors they ordinarily wouldn't greet. Use Giant iTab to break the ice with your visitors and familiarize them with who you are and what you offer.
How Do I Set the Home Screen on Giant iTab?
Giant iTab lets user repurpose their digital content onto this device. This means that you can add your content to the Home screen, integrate systems, and create a customized Home screen with your .pdf, brochure, client information, etc. If you have an app for your brand, simply download the app from the Play Store and open it. Your app is your Home screen.
The Next Generation of Trade Show Display is Here
The smartphone is the most owned and most significant digital device in the world. Giant iTab converts the small, personal experience of a smartphone into a large group experience. Trade show vendors can now market their brand on a giant scale in a familiar and comfortable way that people intuitively understand. The days of huddling around a little phone, laptop, or tablet are long-gone because the Giant iTab is the next generation of iPad trade show displays.
Giant iTab
+44 20 3542 1645