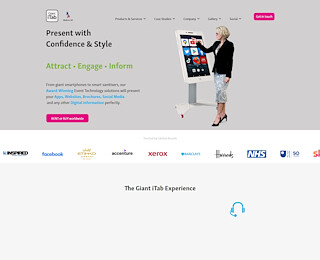 Why Use an iPad Trade show Stand
Tradeshows have the tendency to become boring. But you can't just skip them. It's your chance to generate new leads and establish your brand's exposure. Keep your event exciting by making your booth as interesting as possible. One of the ways to do that is to use an iPad trade show stand. In case you have not tried doing it before, below are a few more reasons to consider it on your next event.
Benefits of iPad Stands in Tradeshows
It is affordable. When you have a small business, it is not practical to buy an extensive booth display for your tradeshow. Instead of focusing on your display, use an iPad tradeshow stand to get your audience's attention.
It is a brilliant way to advertise your business. With a Giant iTab, you don't have to push too hard in selling your product. A tradeshow allows you to provide information about your company but doesn't be pushing or else you will stress people out. Simply upload a video on YouTube or Vimeo and use the iTab to present it to your guests.
It encourages creativity. With a giant smartphone or tablet, the possibilities are endless because it gives you the access to websites and apps that can help in your tradeshow. When you want to host a game, an iPad lets you create one in a very modern way. Say goodbye to the old bingo game because you can now create a trivia quiz for your attendees to answer.
Why Choose Giant iTab
Any business aims to attract, engage, and inform through their tradeshows. Our company understands that goal, hence the birth of the Giant iTab. This full HD and pro-cap touch screen tool has been effective in different types of events, such as app showcasing and telecoms. Here at Giant iTab, we provide a remote support plan, a software license, and one-year warranty.
We are committed to providing a high level of service to your customers. Thus, our support plan provides an extra level of support to complement their technology. Issues can possibly happen and in case there are issues which may come up, we are here to give you the peace of mind. Our tech advocate partners are adept not just in developing apps but also marketing and engaging people.
When you are interested to rent or buy an iPad trade show stand, we suggest visiting our "Customer Demo Suite" in London. This way, we will be able to discuss your requirements. Prior to committing to any installation, we suggest seeing if everything is working seamlessly. We have approved resellers in London, in case you need help regarding your concerns.
We also have rental partners all over UK, Europe, USA, Canada, Middle East, Asia Pacific, and Australia and New Zealand. As of now, Giant iTab is servicing four continents and 22 countries worldwide. You may connect with us if you want to become a Giant iTab partner or if you want to use it for your next event.
Giant iTab
+44 20 3542 1645