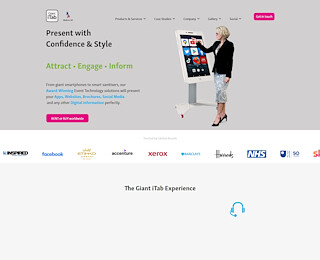 iPad Trade Show Stands
Customer engagement is one of the most vital functions that software or gadget should have or attain. Because the user's involvement with the overall device function will also measure the practicality and effectiveness of the gadget in terms of its general performance.
Thus, it is advisable to consider first the full service of the device before looking at its trending styles or device models. We, at Giant iTab are consistently committed to catering user-friendly and customer-centered technology products and services for our clients. We make sure that all gadget-base necessities of each customer are well handled and properly addressed.
Our Top Product Service
We offer an array of iPad and smartphone products which are all high-quality mobile devices offering the latest technology in terms of software core, featured tools, applications, and content support. These products are the best use for individual service or corporate advantage.
In addition, you can also take advantage of our try out content before the actual product purchase. All you have to do is just send us the content that you need to test with the device. Then, you can maximize learning the whole procedure through a live video tutorial or demo. After that, you will receive the sample video of your content without hidden charges. With this, you can ensure that our product service suits the requirement or necessity for your project or event.
Moreover, we also provide product warranty, support plan, and software license for a more convenient iTab experience. The warranty involves one to three-year return of product service either on-site or delivery type. However, the latter entails a longer process of return policy because the delivery period may vary and will depend upon your location. This service is also intended for any faulty or damaged product which is unintentionally purchased through our different partnered marketers and resellers all over the world. Software license, however, pertains to the regular upgrade of your software core functions. This includes the iOS or Android type of system function updates. The support plan highlights the technical service that our company is providing to address any software and content related issues that you might encounter with your device.
iPad Trade Show Stands
Our company caters 3 types of giant iTabs which are 27 inch, 42 inches, and 55-inch size capacity. This huge demand for huge gadgets will be introduced in our latest event which is the iPad trade show stands. All iTab types have full functional features like coated glass type panel, full HD visual resolution, touch panel brightness, fast ranging response time, horizontal and vertical type of viewing preference, highly compatible touch technology or finger touch system, 24/7 operating time, with anti-glare protection, dual stereo speakers, white acrylic style with metal edging enclosure, steel type stand, with Android solution peripherals and CE certified, with flight case accessories, with 1 to 3-year period warranty options, and modern iOS and Android type of Operating Systems.
Contact Details
You may directly send your message, comment, or queries through the Giant iTab website at www.giantitab.com or email us at info@giantitab.com. For a more immediate response, you may call us at +44 (0) 20 3542 1645.
Giant iTab
+44 20 3542 1645