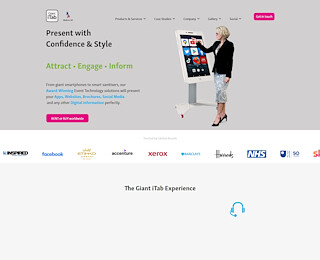 The way businesses display their content, ideas and products has changed dramatically over the decades. Print signs are going the way of the dinosaur now that options are available digitally. After all, why pay for one static message when your display can be dynamic, ever-changing with information and services that you offer so that your customer base is aware of the changes that happen in your business?
But even that has changed. Digital billboards are still prevalent, with a rotating set of ads on display 24 hours a day. But those digital displays are now shrinking and becoming featured more and more in stores as well. If you can interact with your customer, why wouldn't you?
What is iTab?
The iTab is really a simple idea at its core: it is a giant, interactive digital display. In very simplistic terms, it is constructed like an iPhone but on a massive scale. Instead of getting a 10-inch display, you can customize the iTab to be as small as 27 inches or as big as 55 inches (that is the size of your average smart television).
These iTab displays allow for complete interaction: they feature apps like Facebook, Twitter and Youtube and function as smartphones do. They can even be designed to look like giant smartphones, tablets and what they call "touch tables". Having these displays in a store allows for the client to interact with their customers on a level that has not been achieved before, letting the customer feel as though they are experiencing a unique and customized experience.
Allowing the customer to complete their own orders or see things for themselves is the wave of the future and the iTab is the future.
What software does iTab use?
iTab uses software that provides end to end IT services to clients all ove the world. It is a mult-channel digital software development company. They use SME software to provide a plethora of services and functions for their customer base across the globe, helping to create a blueprint of sorts for their clients based on that client's individual needs.
The iTab software is ever developing, allowing for on-the-fly changes to be made based on client demand and any new developments and breakthroughs that have been made.
Where can one rent a Giant iTab?
Giant iTabs are available for rental in the UK and Europe, the United States, Canada, the Middle East, Australia and New Zealand, and Asia Pacific.  In the UK and Europe, they are only available for rental through Giant iTab itself. In Canada, they can be rented through MCR. In the United States, they are available through Meeting Tomorrow, ShowGear Productions and SmartSource Rentals. In the Middle East, they can be procured through Prince AV while in Asia Pacific they can be rented through GL Events. And finally, in Australia and New Zealand, they can be rented through Hire Intelligence.
Available in four continents and 22 countries, the Giant iTab is literally a global phenomenon that is changing the way businesses display their content and products.
Giant iTab
+44 20 3542 1645