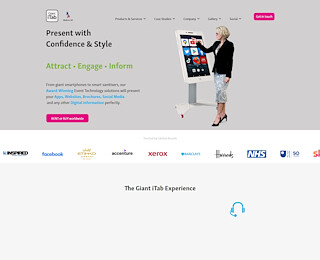 Largest touch screen monitor
Innovation is something we as humans always strive towards. In your company this should be no different. Giant iTab is a well established British company, offering your business innovation on a grand scale. They say bigger is always better, that is exactly what we were aiming for when we created the Giant iTab series. It is the largest touch screen monitor that will change the way you do business.
Our motto has always been to Attract, Engage & Inform, and with this spectacular device all of this is possible. These Giant iTabs come ready as a 'plug & play' device, that has all the capabilities as the normal iTab, only difference is that it is 100× bigger. So why should you invest in one of these large touch screen monitors?
The size of the device
The size of the device is the drawcard when dealing with the device. There is no unnecessary wires attached to it, unlike a computer with a mouse and keyword. Everything is integrated into the screen making everything a touch of the finger away.
Speed
We are moving away from old technologies like the computer and laptop, touchscreen technology lets us operate any device faster. Whereas operating with a mouse and keyword can waste valuable time in a meeting or presentation.
Ease of use
When you use intuitive technology it makes life just that much simpler. When dealing with a Giant iPad you just need to touch the screen to get the desired result, unlike other forms of presentation technology where you glitches can easily spoil or mean a negative output of a deal. This also means the user does not have to be that coordinated with the device as it super user-friendly.
Society is accustomed to this technology
When dealing with a Giant IPad pointing to a specific icon is an instinctive gesture that all of us has come accustomed too. Strangely enough, some people are still not used to navigating a computer or laptop, and thus they prefer a Giant iPad for convenience sake. Most old folks have now mastered the simplicity of these devices making it almost impossible to not acknowledge the benefits that this technology could bring to your workplace.
Different case studies
If that didn't convince you then we have some amazing case studies to show you just how important and a game changer these large touchscreen monitors are. We have worked with giant companies and businesses and they see the value that it adds to their businesses. London fashion week, Barclays, BBC, and even Xerox have all used these Giant iPads to their advantage.
Conclusion
It is always a smart way of thinking when you tend to be ahead of technology innovation. This is just what it means when you own or rent a Giant iTab. Technology is constantly changing and it is up to you to stay ahead of the innovations. Get in touch with us for a great deal or to find how where you can get your Giant iTab.
Giant iTab
+44 20 3542 1645