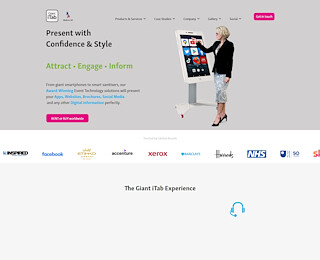 Where to Get the Largest Touch Screen Tablet
Nowadays, mobile phones are constantly revolutionizing in different ways in terms of sizes and features which offer a whole bunch of surprising gadget experience. This is why many electronic companies are contending for the latest trend and technological advances when it comes to computers and mobile phones. Despite this, only a few companies are able to effectively incorporate and balance the digital success and the simplified user interface. One of the leading tech experts that bring much fun and color to the digital world is Giant iTab.
Our company aims to provide a fundamental advancement that caters fun, engagement, and valuable information services. We commit to bring each community closer together through our top of the edge gadget innovation.
Our Best Product Service
All of our technology products contain plug and play function solution which enables the user to have a web browsing experience with limitless tools and add-ons to maximize full range of features in terms of digital content, social media engagements, and application integrations.
Our network has a global grasp of services that is why we can cater to a wide range of service all over the world. Because of our high product demand, we have wider linkages from partner agencies and companies and provide international marketing with multiple reselling outlets. We assure to fully assist you from delivery of the product, assembling the parts and setup functions, and installation of applications. Aside from that, you can also take advantage of the on-site training that we conduct upon request or if necessary in order to ensure that you attain the full understanding and customer-centered product service that you need.
Largest Touch Screen Tablet Products
We cater the leading tablet and smartphone technology solutions which involve a wide range of styles, functions, and featured tools. we have molded long term commitment to our valued and loyal clients with the number which continuously growing.
Our product iTabs come in three different sizes: 27, 42, and 55-inch available sizes. Each tab has a user-friendly interface with a highly customizable setup so you don't have to worry about the complex navigation of embedded applications and functions.
The 27-inch tab involves full HD resolution capacity, a reducer function of blue light as an eye protection system, and the very efficient touch technology system enabling touch point activation and compatibility support. When it comes to 42-inch type, it has similar functions as the smallest type but with additional functions such as 2 by 7 stereo speakers, metal edging kind of enclosure, and steel type stand. For 55 inch largest touch screen tablet products, we have a faster response time of 12ms, maximize operating time, higher HD resolutions.
Contact Information
To know more about our products, you can visit directly at Giant iTab official website at www.giantitab.com and register your name with your comment or message in order to get an immediate response to your queries or concerns. You can also give us a call using this number: +44 (0) 20 3542 1645 or email us at info@giantitab.com. For other updates and amazing offers, don't miss to follow us on twitter at @GiantiTab.
Giant iTab
+44 20 3542 1645
Chester House, 81Fulham High St, Fulham SW6 3JA, United Kingdom