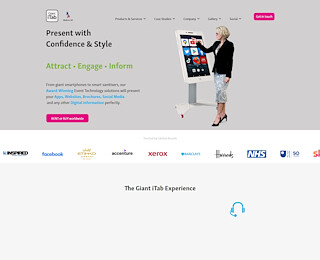 Businesses have changed the way that they choose to display their content and products. In the old days – which were as recent as a decade ago – print media was the way to display content and products. Signage that showcased one or a handful of products, typically with a price point attached, that remained static in windows or displays.
But as technology has progressed over the years, that has changed dramatically. More and more businesses are using digital signage. Think about when you visit a fast food restaurant like a McDonald's. They even use digital signage for their menus, using the dynamic feature to show you specials, deals and a litany of other things aside from their normal menu. It allows for educating the customer about their product on a level that was not possible before.
These digital displays are the wave of the future, especially now that we are the short attention span era: there are few things that can hold our attention for more than a handful of minutes at a time. But where can one rent these services and just what do they offer?
What technology rentals does iTab offer?
iTab offers a litany of options in their display options. They offer displays that look like giant smartphones, tablets and what they call "touch tables," which function the same as the first two but are laid flat to act as a display table.
Not only that, but iTab offers these display options in several sizes: 27 inches (which does not have a touch table options), 42 inches and 55 inches, meaning you can get the perfect size display for your business. Because finding the right way to grab the attention of your customers is half the battle; getting them to engage with your displays being the other half. If you can grab their attention and get them to interact with your displays, you have already won a huge part of the battle as a business.
What other technology rentals are available?
There are several vendors across the globe that offer rentals of the iTab in the UK and Europe, the United States, Canada, the Middle East, Australia, and New Zealand, and Asia Pacific.  In the UK and Europe, they are only available for rental through Giant iTab itself. In Canada, they can be rented through MCR. In the United States, they are available through Meeting Tomorrow, ShowGear Productions and SmartSource Rentals. In the Middle East, they can be procured through Prince AV while in Asia Pacific they can be rented through GL Events. And finally, in Australia and New Zealand, they can be rented through Hire Intelligence.
Aside from that, there are traditional technology rental companies that offer high-definition smart televisions, tablets, computers, virtual reality equipment, printers and faxes, and wireless internet rentals to equip your business both locally and on the go for events or conventions.
Anything you could need to furnish your business or to bring for a convention can be found at one of the above vendors or through iTab itself.
Giant iTab
+44 20 3542 1645