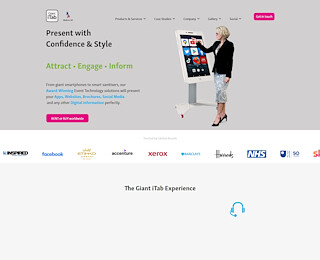 Want to Make an Impact? Get Touch Screen Displays for Trade Shows!
Trade shows and live events are two essential venues for corporate marketing. In these scenarios, many companies can achieve a variety of objectives for their business. One of the critical keys to making a good result in a trade show is for your company to stand out from the crowd.
The quintessential element of a trade show is the booth. They are usually standardized and uniform spaces, so how will you manage to stand out and obtain competitive advantages? Audiovisual elements are crucial to make a difference. One of the innovations that are revolutionizing trade shows is the giant screen displays. You must know about these products and how they can benefit your participation in these events.
What is the Giant Touch Screen for Trade Shows?
These are audiovisual resources that allow direct interaction with visitors to your stand. The excellent models developed by Giant iTab Labs come in attractive designs, in the form of smartphones or tablets. These devices will turn your corporate audiovisual information into an unforgettable experience for event attendees. This is an innovative trade show technology that will allow you to attract attention and get a significant number of attendees.
The fundamental objective of a touch screen display is to allow customers to remember you forever. While they play and interact with the devices, you will be able to feature different content of your brand, including among others:
Websites
Apps
Multimedia Content
Product Catalogue
FAQ's
By purchasing a giant interactive device, you will make an investment that will allow your company to succeed in all public events in which you participate. You will be able to establish a before and after in your industry, since you will undoubtedly be able to obtain excellent deals and profitability, fulfilling your corporate objectives.
A Trade Show Touch Screen Will Boost Your Sales!
One of the keys to achieving attention, gaining authority, and influencing the purchase decision of a user, is to provide an extraordinary experience. Smartphones and tablets have changed the world. When you use this type of state of the art technology, you will achieve that impact on your target audience. With a content strategy and a trained sales force, you will achieve extraordinary profitability.
Trust Giant iTab Labs: the Original Interactive Displays for Trade Shows
If you want to buy one of these extraordinary devices, we have the best of the best for you. We are the pioneer in the development of this technology, and that is why we have the most advanced displays. You can select devices from 22" to 55" according to your needs and budget. Plus, you'll have the full support of Giant iTab Labs, with comprehensive services that may include:
Delivery
Set-up
Installation
Training
Besides the fact that we provide the most competitive prices in the market, you can also enjoy the more added value that includes our warranty, software license, and our remote support plans. This will allow you to use the device at its maximum performance, maximizing your results.
Order the Top Touch Screen Displays for Trade Shows
If you're looking for the best touchscreen display for sale, you're in the right place. Power your business with the most extraordinary resources for your live events, backed by the real experts. Interactive Technology Is Effortless, and it's now within your reach. Check out Giant ITab products, select your favorite, and join the group of winners. We will be happy to support you on your path to success.
Giant iTab
+44 20 3542 1645