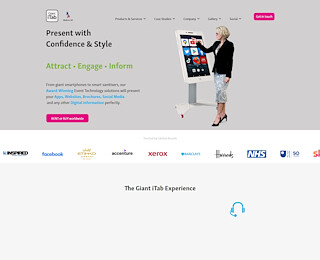 Digital kiosks are so valuable that they have become one of the best interactive tools that attract customers' attention at events and trade shows. Touch screen kiosks are an automated, accessible way to promote your brand and interactively connect your audience with information. At Giant iTab, we are proud to offer the latest touch screen kiosk rental for trade shows, businesses, and meeting planners' applications.
Our interactive touch solution rentals allow you to tailor messaging, implement new content on the fly, and make changes without experiencing high printing costs. All our digital kiosks come as a complete plug and play solution which allows you to showcase digital contents, including digital multi-media, websites, and apps in web or native format.
Kiosk Touch Screen Rentals Applications
There are a number of ways our kiosk touch screens can be used to captivate and increase participation. For instance, you can place your kiosk touch screens at key places throughout an event to act as guides, display maps, interactive documents, image galleries, event schedules, and more. That way, your touch screen monitors can act as self-service information kiosks. 
Among several other applications, you can also use our kiosk touch screen for event registration, lead capture, presentations, and entertainment, digital signage, sponsorship, or event promotion. Moreover, you can request for any specific functions you would like added in your custom software. We'll work with you to make sure the software for your kiosk touch screen suits the needs of your event or trade show display.
Touch Screen Kiosk Rental Sizes 
We offer various different sizes to match whatever you want to make at your trade show or event. Touch screen kiosk rentals from Giant iTab come in 27-inch, 42-inch, and 55-inch monitor sizes. Our huge table style touch screens are the latest designs with no expense. In addition to touch screen kiosk been great for making a memorable impression at events and trade shows, our tools are also ideal for retail and marketing purposes. And multiple users can simultaneously interact with all of our touch screen monitor rentals. 
Pricing
At Giant iTab, we calculate our prices carefully so as to maintain the highest quality of service and products, whilst also being very competitive. We offer various options, and you can choose the one which is best suited for you in term of budget, your requirements, and the client's expectation. Need to know more about our touch screen monitor rental sizes and pricing? Please contact us directly or check out Giant ITab products and one of our experts will get back to you shortly. 
Support
At Giant iTab, we offer a remote support plan which allows our technicians to access your tools without requiring an on-site call. We can use this service to help you whenever you have technical issues related to the content on your device. We can also offer support time, to keep your touch screen kiosk rental working properly without making downtime. 
Contact Giant iTab for our Interactive Touch Screen Solutions at your next show!
If you're looking to add touch screen kiosks at your next trade show or event, Giant iTab can design an interactive touch screen kiosk rental solution to meet your exact needs. Contact us today.
Giant iTab
+44 20 3542 1645