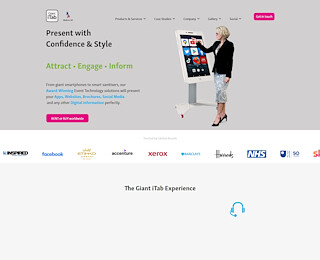 Modern touch-screen rent display technologies like wall and table-mounted displays were traditionally exclusive to big corporations until recent years. They are currently available for exposition displays in any size and include full spectrum specifications like the 1080p HD, a cutting-edge appeal, and multifunctional mountings.
2020 tradeshows and exhibitions demand attention with interactive displays and designs. They have powerful, engaging tools like video walls, touch tables, sound systems, and giant touchscreen tablets. Our memorable tablet displays create unique viewing experiences and attractive vibrant media displays. You can take your video display to the next level by working with us for a larger than life video display.
Benefits of the trade show interactive touch screen
Easy comprehension
Some business models are challenging to understand because they have complicated layered models of operations. Companies simplify the understanding of their products and services using display-marketing materials like brochures, whitepapers and advanced touch screen rental for events and trade shows.
Displaying how you fit solutions into society makes it easier for viewers to understand your proposition. They use the touch screens and software for trade fair and events to retell the story to other stakeholders and bring a full-circle relationship that advances everyone's ambition.
Personalized communication
Most presentations display information by assuming what viewers want to see and hear. An interactive touchscreen tailors a two-way channel for all audiences to exchange information. Touchscreens allow you to personalize the data and insert leading questions to highlight key features of the presentation.
Our interactive touch screen kiosks and size of screen lifts the limit at which companies can tailor questions. An example is a game that allows visitors to change the colors of cars in a showroom, or arrangement of furniture at an interior design exhibition.
Satisfactory presentation
The best thing about an interactive touchscreen is that information is not confinable in brochures and datasheets. It is easy to update content with changing results of an ongoing game show, interview, or research results. 
Customers have access to a considerable depth of information that heightens engagement of all other activities at the exhibition. You have the option of skimming the top level of the information or including in-depth information for the enthusiastic participants.
Branding
Many brands take pride in coming across as forwarding thinking entities in their niche of operation. Displaying interactive content and an immersive touchscreen for huge android for trade shows makes you stand out among boring displays like a rigid wall display.
Interactives create a focus for conversation by becoming the center of a sales conversation. The goal of a business that wants to bolster sales should be focusing on customer interest. The eventual effect of increased positive attention is an elevated brand image that maintains a longer streak of success.
Integrated metrics
Visitors do not always realize the benefit of using a tradeshow interactive touchscreen tablet until they have to integrate various social media plugins. Our three tablets share the same apps as a simple iPhone and will, therefore, have on-demand reports on multiple platforms.
You can intertwine your presentation with an SEO effort for seamless marketing. Buy any of our tablet options and receive the same interactive capability and marketing features.
Giant iTab
+44 20 3542 1645