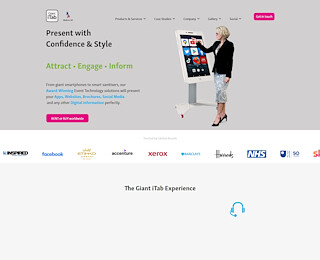 What to Look for Trade Show Ipad Stands
A trade show is an exhibition where businesses get to promote their products and services. At this time and age, a trade show is considered as an old school form of marketing. This may be true but that does not mean we should forget about this method. In fact, there is no better time to do it than now. This is because you can take advantage of digital technology when hosting your trade show.
How to Level Up Your Trade Show Strategies
One of the ways to revitalize your tradeshow marketing strategies is to use the latest form of technology we have today. Make an impression on your potential customers by showcasing your digital content with your own tablet. Or if you want to take things up a notch, use a Giant iTab. Our trade show iPad stands make it easier to showcase apps or your brand's digital signage.
Why Use Giant iTabs for Tradeshows
A Giant iTab makes it easier to display the necessary information about your new service or product. If you want to catch people's attention, doing it with a Giant iTab can do the trick. It is a creative way to offer an interactive user experience that your audience will love. Remember, a trade show is not just a chance to meet industry partners. It is more of an opportunity to present your products or services to the people who need it the most.
The device supports various types of files, so you can be more effective in presenting your app, website or interactive media content. Nowadays, it is a must to create video content. This makes it easier for you to capture your audience's interest.
Things to Consider When Looking for Your Ipad
Ease of use – our intuitive technology is fairly easy to use. It's like you are using a magnified version of your device. Whether you are using an Android or an iOS app, you will not have a problem using the iTab because it is compatible with both operating systems.
A device with cutting-edge technology – our Giant iTab uses the same capacitive touch screens as the new models of the smartphone today. Besides the fact that it is easy to use, it will not leave you disappointed because it uses advanced technology.
Excellent support – we have technicians who will be able to assist you with technical issues without calling on-site. We offer remote support plan to provide assistance regarding the content on the device, such as concerns on software and support.
Giant iTab is an effective tool for your Sales or Marketing events. Our Giant smartphones are also receiving positive reviews from IT businesses. It actually works on a wide range of product, ranging from app development and testing to retail and ecommerce. We allow renting and buying our trade show iPad stands. When you got questions, give us a call at +44 (0) 20 3542 1645 or send us a message through the website.
Giant iTab
+44 20 3542 1645