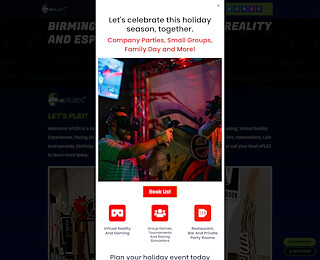 An arcade gives you access to the most recent equipment and games. Gain access to latest technology and games at the Magic City ePlex, a unique VR arcade in Birmingham, Alabama. HP Omen computers and Springboard VR driven headsets create a powerful and immersive experience.
What VR games are available?
Virtual reality is now mainstream. Gamers enjoy first-person shooter, rhythm, and sports games on over 14 million devices.
Tournaments center around Echo, Onward, and Space Junkies. Developers continue to push into this multi-billion-dollar industry. New games will inevitably become part of the Virtual Reality League, now in season three and offering nearly $40,000 in prizes.
Is there a café with VR headsets?
The Magic City ePlex brings the virtual world to the masses while offering a place for competition. Between tournaments, our arena, restaurants, and bars are open to the public. Bring up to four friends into the game.
We offer the most powerful equipment. Immerse yourself in one of a wide variety of games without interruption.
Can I game with my friends in VR?
Virtual reality technology continues to evolve. Hosting a party of your friends is possible with the latest headsets. Up to four players at a time enjoy casual and competitive gaming.
No one should game alone. The ePlex embraces every change bringing people together to enjoy the camaraderie of playing together.
Get in the game with Omen PCs
Virtual reality is a demanding technology. The Oculus rift requires at least an Intel Core i5, a recent generation graphics card and eight gigabytes of RAM.
Hewlett Packard Omen computers are up to the challenge of supporting your gaming session. The manufacturing giant provides superior processing power and NVIDIA GTX graphics cards in every device.
Springboard VR
Springboard VR offers the software to empower the best headsets. From an immersive launch console to an immersive set of commands that allow you to control your experience without removing your headset make Springboard VR one of the best platforms.
The Magic City ePlex includes Springboard VR technology in every headset. We ant our players to have the best experience possible.
Train your esports team
With esports reaching new heights of popularity, teams need to be at their best. Nearly 200 million viewers and fans across the world tuned in to watch tournaments. Asians and Americans make up the vast majority of the fanbase.
Our state-of-the-art arena and gaming café offers you the chance to train in a competitive atmosphere. We support the latest technology for small teams. Never take off your headset while obtaining advanced analytics and remaining a part of the game. Wireless headsets allow you to wander untethered.
VR arcade in Birmingham, AL
The ePlex is an exciting concept, an arena and arcade in the Magic City. Choose from one of a variety of popular virtual reality games. We offer equipment, support, and even competitions between some of the largest tournaments in the state.
Visit our website for more information or to stay up to date on the latest gaming news.
ePLEX Magic City
2059572540
7001 Crestwood Blvd suite 200
Birmingham AL 35201 US